Not quite new books…
The books and the librarians miss you in the library! 😕
We are still ordering books for the collection. So, if you're looking for something new to read, there are a few ways to do it.
Browse our shelves: Take a look at some of the lists of new books for teens that our librarians have selected. There are both new titles, and older titles to choose from.
Let us help you: Fill out the CATSS Crate form, and let a librarian pick some great books for you to try out. You may even get to take home a free "Library Loot" book if there is one around.
Here are some "Not quite new" historical fiction books, that you might have missed: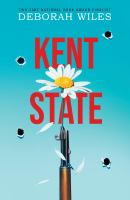 Kent State by Deborah Wiles
What's it about: It's a novel in verse about the shooting at Kent State University in Ohio, told in at least five different voices.
Why you should read it: It's an engaging and quick read about a portion of history that is easily overlooked. It also gives great perspectives from many sides of the situation.  Also, if you like listening to stories, the audiobook just won the Odyssey Award for best audiobook.  
Like Vanessa by Tami Charles
What's it about: Vanessa's middle school is hosting a beauty pageant, sponsored by Ms. America. With the forces up against her, including a change in friendship with her best friend, competing against the mean girl and her groupies, plus hardships at home, and insecurities about her weight, she's not sure whether or not she should compete.
Why should you read it: It shows Newark NJ in the mid-80s and all that it represents, plus everyone will want to fight for Vanessa and see if she overcomes everything that she's going through.
Looking for some more fiction for teens that you might have missed? Click here to take a look at more books in our catalog.